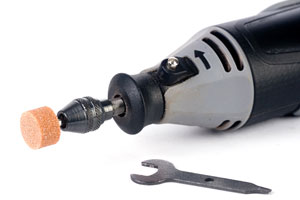 Woodworkers, craftspeople, and DIY enthusiasts have discovered the benefits of the miniature power tool. In situations where precision and versatility are required, these are often the go-to tools.
Mini Power Tools, Defined
A mini power tool is designed to be light and easily held by hand, and rarely has cutters that exceed 5 mm. Not only do these tools allow for more precise work, most of them offer a wide range of cutters, which means that one tool can be used for sawing, drilling, routing, carving, engraving, shaping, smoothing, polishing, and more. For those who don't want to change attachments, many manufacturers offer dedicated units.
Mini Power Tool Selection
There are several things to consider when selecting your miniature power tool, but most important is the intended application. You'll want to make sure the tool includes or will accommodate the necessary attachments. The other main consideration is the type of power you want your tool to run on. This decision will be driven by where you're planning on using your miniature power tool.

Mini power tools can be powered by main circuits, by transformers, or by batteries. Main-circuit power tools are heavier and more expensive than low-voltage power tools, but are more portable. Low-voltage power tools are lighter, but must be connected to the main circuit with a transformer, making them best for stationary work. Battery-powered power tools are more portable than other types of mini tools, but they usually have less power and not as many speed variables to choose from. Because they are safe in wet locations, they are ideal for outside use.
---
Copyright © Miniature-Tools.com.
All rights reserved.
About Us
.
Miniature Tools